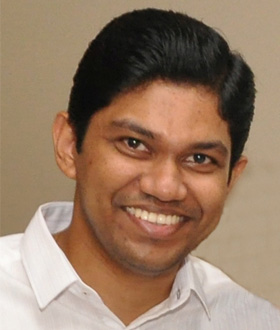 Dr. Jojo Kottoor was initiated into dentistry in the year 2001 and completed his graduation from Dr. MGR Medical University, Chennai in 2006. He then pursued his masters training from 2008 to 2011, in the specialization of Conservative Dentistry and Endodontics from Meenakshi Ammal Dental College, Meenakshi University, Chennai.
He was bestowed with various laurels during his masters training which included 'Best case report" for the year 2009 and 2010, best Postgraduate student and the University silver medalist for 2011. He also received a special appreciation award from the Indian Endodontic Society in 2011.
He has many pioneering firsts to his name. He is the foremost to report in literature
The complexities of a seven and eight canalled root system in the maxillary first molar
The endodontic management of a five-rooted maxillary second molar
Four canals in maxillary lateral incisor
Seven canals in mandibular second molar
C-shaped palatal root canal in the maxillary molar
Four rooted mandibular molar
Added to these firsts, Dr. Kottoor has additionally contributed to endodontic literature by
Proposing an anatomically based nomenclature of roots and root canals
Contributing 24 publications in PubMed Indexed international journals
Publishing in various peer-reviewed international journals including Journal of Endodontics (JOE), International Endodontic Journal (IEJ), Oral Medicine Oral Radiology Oral Pathology and Endodontics (OOOE), Quintessence International (Qi) and International Journal of Pediatric Dentistry (IJPD)
Having the honor of contributing to the cover page on three separate occasions of acclaimed journals like the JOE and IEJ
He has also made valued contributions to Textbooks in his specialty and acknowledged as a Contributor in.
Grossmans Endodontic Practice (12th international edition, 2010)
Grossmans Endodontic Practice (13th international edition, 2014)
Ingle's ENDODONTICS 7th International Edition


Dr. Kottoor is actively involved in teaching undergraduate and postgraduate students for the past 5 years. He is currently academically affiliated to Mar Baselios Dental College, Kothamangalam, Kochi, India as a 'Reader'. Additionally, he has also lectured as an invited and guest speaker at national and international platforms. Dr. Jojo has a special interest in complex diagnosis, anatomy of the root canal, pain-free dentistry and dynamic irrigation.
He is currently the Associate Editor of Journal of Conservative dentistry and Endodontics and Editorial board member in Journal of Conservative Dentistry, International Journal of Pediatric Dentistry, Quintessence International (Qi) and Journal of Clinical Anatomy. In his spare time Jojo enjoys driving, playing basket ball, as well as spending time with his wife Minu and two adorable kids, Rose and Mathew.